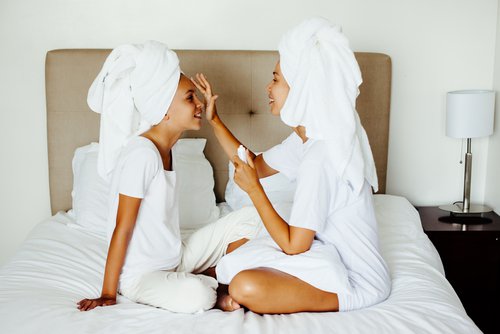 Everyone in Rhode Island has been watching the news to see what the 2020-2021 school year will look like, with the only certainty being that things will not return to "business as usual." Unfortunately, stress and uncertainty can have serious negative effects on your skin. This is especially true for teens, who are already vulnerable to skin troubles due to puberty.
At RI Skin Doc and Rejuvaderm, we want to serve as a supportive, guiding resource for teenagers in keeping their skin healthy, even as we move into a tumultuous school year. Here are four tips teens can use to keep their glow on when returning to school, whether it's in the hall or on the Zoom call:
1. Keep Your Face Well-Cleansed
As a teen going through puberty, your pores are currently in an expanded state. This means they will produce an extra amount of oil, and that they're more prone to being filled with dirt and bacteria, causing acne breakouts. While there's no need to be compulsive about washing your face, being diligent can help you minimize excess oil, prevent breakouts, and keep your skin healthy. Everyone is an individual, and a cleanser that works for your friends may not work for you. 
We recommend choosing a gel or foaming cleanser that's been cleared with your dermatologist -- that way, you'll know that you've chosen the right product for your particular skin. Give your face a full wash at least once a day, or twice if you find yourself particularly oily. It's also a good idea to wash your face after you exercise or after you've eaten something greasy to prevent sweat and oil from being trapped in your pores.
2. Protect Yourself From the Sun
Summer may be coming to an end when it's time to go back to school, but the sun's harmful UV rays never take a vacation from damaging your skin and putting you at risk for skin cancer. Wear SPF sunscreen whenever you go outside, no matter what -- not only will it protect you from cancer, but it'll help your skin continue to look fabulous as well. Sunscreen can even help prevent acne from taking on a darker pigment, making it less noticeable. Try incorporating UV protection into your makeup routine with oil-free cosmetics containing SPF, and as always, skip the tanning bed! 
3. Practice Good Makeup Habits
Experimenting with makeup and developing your own style can be one of the most fun parts of being a teenager. Unfortunately, makeup can also irritate your skin and clog your pores, contributing to skin troubles like allergic rashes and breakouts. A few of the makeup best-practices we always recommend include:
Never sleeping in your makeup
Never sharing makeup with friends
Choosing alternatives to oil-based makeup products
When experimenting with different brands of makeup, you may also find yourself with a case of allergic dermatitis, which can present as an itchy rash. If you have an allergic reaction to a particular kind of makeup, stop using it immediately, no matter how much you like the product! 
4. See the Dermatologist 
Developing a relationship with a dermatologist early in life can lead to great habits in the future. When you begin seeing a dermatologist as a teen, you learn to understand your skin and prioritize its health. You can also get help from your dermatologist in choosing skin-friendly cosmetics and cleansers, giving you peace of mind that everything you're putting on your skin is expert-approved!
If the stress of school year 2020 has you scrambling to turn off the camera during your virtual class, don't wait to see a dermatologist and begin feeling great about your skin. Schedule an appointment with our specialists, and soon, you'll be top of the class when it comes to healthy skincare!
With ongoing safety precautions in place, RI Skin Doc and Rejuvaderm MediSpa are OPEN for in-person visits by appointment only. If you have any questions about our COVID-19 response, visit our website.