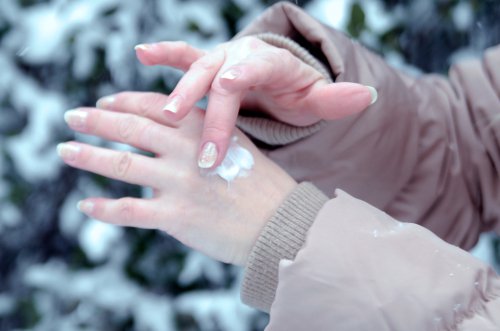 While November and December bring beloved holidays and winter fun, they also signal the beginning of cold weather patterns that can leave your skin feeling dry and chapped. Dry skin symptoms during periods of cold weather affect people of all skin types, including those who are already struggling with skin conditions such as eczema and psoriasis. 
This cold weather season, the experts at RI Skin Doc and Rejuvaderm MediSpa want to help you take control of your dry skin and take proactive steps toward finding relief. Here are four dermatologist-approved ways to stave off uncomfortable dry skin when the chill sets in:
1. Adjust Your Shower Habits
While a long, hot bath or shower may seem like just the ticket on a cold day, your skin begs to differ! Spending extended periods of time in very hot water can actually make dry skin worse by stripping your skin's naturally-occurring oily layer, removing a significant amount of its moisture. Try to spend no more than 5-6 minutes in the bath or shower, and if you can, use lukewarm water rather than cranking the temperature all the way to steamy hot. Additionally, certain bathtime tools of the trade such as scrub brushes, washcloths and sponges can cause tiny scratches that will become irritated as your skin dries later. If you'd prefer to use them when getting clean, make sure you're not scrubbing too hard! When you get out of the tub, use the same gentle practices while using a towel to dry off. Think "blot" or "dab," not "rub" and "scrub!"
2. Keep from Irritating Your Skin 
Dry skin doesn't just hurt: it can become itchy as well, especially if you're living with eczema or another type of dermatitis. It's extremely important to resist the urge to scratch this itch when it stems from dry skin, as the problem can become so much worse as your skin becomes more irritated. The next time you feel your nails going to your skin, reach for the moisturizer instead! If your topical solution isn't providing enough relief, a cold compress can help as well. Take a look inside your closet, too -- are your favorite holiday sweaters made of wool or other irritating fabrics? If so, it might be time to make a swap to something easier on your skin. Shaving your face, legs and underarms can also create minor trauma that can worsen dry skin irritation, so be sure to leave shaving cream or gel on for a few minutes before you begin, and never take the razor to your skin without it. 
3. Consider Using a Humidifier
There are a whole host of reasons to love humidifiers, many of them echoed by healthcare professionals in a variety of fields. The team at RI Skin Doc can tell you that dermatologists are no exception: humidifiers are wonderfully helpful to patients who struggle with moderate to severe dry skin every winter, since they can address the problem at its source. When the air around you is dry, it tends to absorb moisture wherever it can, including from your skin. This causes the moisture on the top layer of your skin (epidermis) to evaporate. Humidifiers work by sending water vapor into an indoor space, increasing the general humidity level in the air inside the room and allowing your skin to retain its natural levels of moisture. You can set the humidifier to achieve a particular humidity level based on your needs -- doctors recommend a 60% humidity level to help your skin stay naturally moisturized. 
4. Swap Soap for Derm-Approved Creams
During periods of dry skin, soap and soap-based cleansers can be a huge factor in robbing your skin of moisture. Some soaps are particularly harmful, such as alcohol-based products and products labeled as deodorants. But if you can't use soap to stay clean, what can you use? If you're at a loss, it's time to reach out to your dermatologist for guidance in choosing the right product for you. It's also important to use a moisturizer on your hands and face whenever you've put them under water -- at RI Skin Doc, Dr. Frankel recommends Aquaphor Healing Ointment or CeraVe Healing Ointment for keeping your skin hydrated.
If you struggle every single year with painful, itchy, irritated dry skin, know that winter doesn't have to be the season you dread. There are plenty of ways to fight dry skin, especially when you have an experienced, compassionate, knowledgeable team of dermatologists in your corner. If you're looking for the best dermatology in Rhode Island, don't hesitate to reach out to Dr. Frankel and the professionals at RI Skin Doc. Take control of your comfort and schedule an appointment with our specialists today!
With ongoing safety precautions in place, RI Skin Doc and Rejuvaderm MediSpa are OPEN for in-person visits by appointment only. If you have any questions about our COVID-19 response, visit our website.