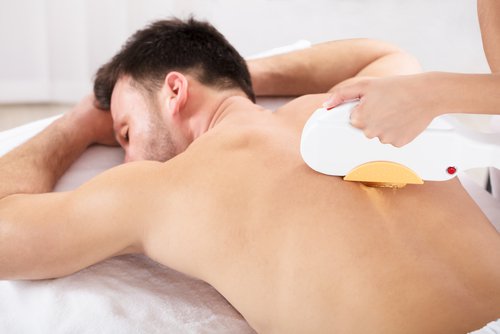 Body hair is a natural part of being human, no matter your gender, hair type, or hair color. While some people are completely comfortable with the hair that appears on their bodies and faces, others find it irritating, unsightly, and detrimental to their confidence. If the latter describes your relationship with your body hair, you may consider laser hair removal to get rid of those pesky hairs once and for all.
At Rejuvaderm MediSpa, we're proud to offer GENTLEMAX PRO® laser hair removal as a safe and effective method for all skin types, and we want our patients to be fully educated before opting for any of our cosmetic procedures. Here are some basic facts about laser hair removal that everyone should know:
You Can Target Specific Areas 
Every person's body hair is unique, and hair doesn't grow the same way on every part of your body. Likewise, not everyone will have the same goals when scheduling an appointment for laser hair removal. Fortunately, laser hair removal is highly precise, and can be used to target a number of different areas with serious accuracy. At Rejuvaderm MediSpa, we offer laser hair removal for the following areas:
Face
Legs
Bikini area
Back
Chest
Underarms
Another impressive testament to the precision of a laser hair removal treatment can be found in the way the entire procedure works. Laser hair removal technology actually targets individual hairs, using light to hone in on certain pigments that indicate unwanted hair. This way, we can eliminate the troublesome hair without damaging the surrounding skin.
You Can Expect Lasting Results
Laser hair removal is a great solution for those who are sick of tweezing and shaving their problem hairs. Why? Because laser hair removal is designed not just to eliminate the hairs present during your procedure, but to actually slow the regrowth of new hairs in your targeted area. Unlike methods such as plucking, shaving, or even waxing, laser hair removal reaches the root of your hair follicle, using heat to destroy the follicle entirely. As your treatment progresses, you will have less and less hair growing in your targeted area, and the hairs that do grow will be finer and less noticeable. These results are permanent -- any hairs destroyed or damaged by laser hair removal will remain that way until they shed during their natural cycle. However, it's important to remember that your procedure may not reach 100% of the hairs in your targeted area, and a few may eventually grow back over time. If this bothers you, it's always possible to schedule another treatment, after which the hairs will become even more sparse and fine.
You'll Need to Schedule Several Sessions 
While the results of laser hair removal are long-lasting and in some ways permanent, the procedure is not a "one and done" affair. You'll need to clear your schedule for several sessions in order to achieve the full benefits of a laser hair removal treatment. Luckily, these treatments can easily be spread out over the course of several months, so you won't need to block off large chunks of your calendar! The aestheticians at Rejuvaderm MediSpa recommend undergoing six sessions in total, and repeating them every 4-8 weeks until your treatment is complete. If you reach the six-session mark and you'd like to see more improvement, or you're interested in any of our other cosmetic spa treatments, please don't hesitate to inform your aesthetician so we can begin discussing your options.
Laser Hair Removal is a Medical Procedure
Just because laser hair removal is an elective, cosmetic procedure doesn't mean you should trust just anyone to do it for you. Laser hair removal involves a combination of technology and technique that requires training and skill to perform without seriously damaging your skin (or the hair you actually do want!). If you see someone offering laser hair removal with no medical background or credentials, be wary and steer clear. Instead, opt to have your procedure at a medical spa such as Rejuvaderm MediSpa, whose practice is rooted in dermatology and science instead of quick fixes.
The specialized teams at RI Skin Doc and Rejuvaderm MediSpa are passionate about taking care of your skin and helping you feel beautiful, confident, and ready to take on the world. If you think laser hair removal is for you, don't wait another day. Visit the Rejuvaderm MediSpa website and schedule your first appointment with trained and certified professionals who are here to help!
With ongoing safety precautions in place, both RI Skin Doc and Rejuvaderm MediSpa are OPEN for in-person visits by appointment only. If you have any questions about our COVID-19 response, visit our website.