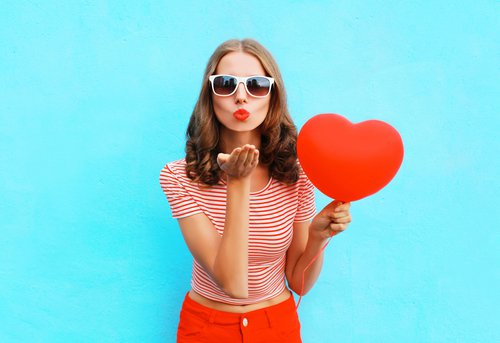 Valentine's Day has come and gone, and whether you spent it with your sweetheart or you took the time to practice a little self-care, it's likely that you had kissing on the brain. Kissing is good for us -- it helps elevate mood, relieve stress, and more -- but if you've been neglecting your lips as part of your everyday skincare routine, you may feel a little self conscious about locking them with someone else.
At RI Skin Doc and Rejuvaderm MediSpa, we want our patients to feel confident and healthy about every part of their skin, including their lips. Here are a few lip care tips from us to ensure that you are perfectly kissable all year long:
Keep Your Lips Moisturized 
Everyone's lips can become dry and chapped every now and then, but if they're feeling that way all the time, you may be neglecting to moisturize them as much as you should. The results of chronic dryness and chapping can even become long-term, as your skin's natural pigment may be compromised and discolored. At face value, the solution is fairly simple: use lip balm whenever your lips feel too dry, and don't forget to apply it to the area around your mouth as well. However, it's important to choose the right product for your skin, as many commonly-used products can lead to breakouts, or even exacerbate your dryness in the long term. Don't fret -- the dermatology team at RI Skin Doc or one of our medical aestheticians at Rejuvaderm MediSpa are happy to help you find the right lip balm to suit your individual skincare needs.
Exfoliate, But Not Too Much
When your lips are chapped, you'll probably notice the flakes of dead skin that accumulate visibly on the surface. Instead of picking, biting, or licking at the skin -- which can quickly make the problem worse -- try incorporating a lip exfoliation treatment into your skin healthcare routine to eliminate that dead skin altogether! Exfoliation can be a delicate process, and improper technique can leave your lips feeling worse than before. That's why our own Dr. Frankel advises patients to have their lips professionally exfoliated during a Hydrafacial Lip Perk treatment from a medical aesthetician. Rejuvaderm MediSpa's Hydrafacial Lip Perk gently exfoliates and hydrates the lips, giving you the soft, healthy look and feel you deserve.
Drink Plenty of Water
Using lip balm and other products to keep your lips moisturized is important, but if you're not keeping your entire body appropriately hydrated, your lips -- as well as the rest of your skin -- will simply dry right out again. But how much water do you actually need to drink every day, both for healthy skin and your body's general wellness? Everyone from exercise gurus to physicians have weighed in on this age-old question, but according to the U.S. National Academies of Sciences, Engineering and Medicine, about 15.5 cups (3.7 liters) a day is adequate for men, and 11.5 cups (2.7 liters) is adequate for women. If you're an especially active person who exercises frequently, you should be drinking even more to rehydrate after you work out. 
Don't Forget That SPF!
As always, the dermatology team at RI Skin Doc and the medical aestheticians at Rejuvaderm MediSpa urge you to protect your skin from the sun at all times, and your lips are no exception. Not only does direct sun exposure increase your risk for skin cancer -- which can indeed occur on the skin of the lips --  but it can also increase signs of aging in the lips and surrounding areas of the skin, such as discoloration and wrinkles. Fortunately, your options for lip care that contains UV-blocking SPF sunscreen are many. You can even incorporate SPF lipstick and gloss into your cosmetic routine! Just touch base with one of our specialists for the best product recommendations to protect your lips and leave them looking as kissable as possible.
One of the best parts of our job at RI Skin Doc and Rejuvaderm MediSpa is to help you feel amazing in your skin, including helping you have soft, healthy, well-protected lips for kissing all year round. If you're ready to show your skin the love it deserves, schedule your first appointment with us today!
With ongoing safety precautions in place, RI Skin Doc and Rejuvaderm MediSpa are OPEN for in-person visits by appointment only. If you have any questions about our COVID-19 response, visit our website.