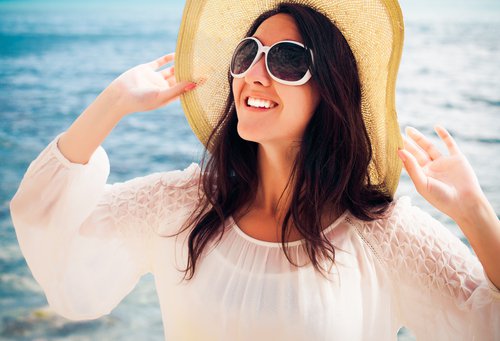 July is right around the corner, and so is Ultraviolet (UV) Safety Month. From burns and cosmetic damage to heightening your risk of skin cancer, the sun's UV rays are one of the greatest dangers your skin will face on a daily basis. However, sunlight has essential health benefits as well, and coming into contact with UV rays is a nearly-unavoidable fact of life on planet Earth. 
At RI Skin Doc and Rejuvaderm, we want our patients to be able to enjoy the sunshine and reap its benefits this summer while doing all they can to protect their skin from UV rays. Here are our top four dermatologist-approved tips for staying safe in the sun:
1. Don't Forget to Wear Sunscreen
This tip is number one on the list for a reason. We actually recommend wearing sunscreen every day to keep your skin protected, no matter the weather or time of year. Using sunscreen with an SPF of 30 or greater can lower your risk of developing melanoma by 50 percent, so there's no reason to put yourself in danger and forgo the protection you need. Not sure which type of sunscreen to use? Check out this resource from the American Cancer Society for some guidance.
Additionally, you shouldn't just apply sunscreen once before running to the beach, only to forget about it for the rest of your day. Be sure to put sunscreen on at least 30 minutes before you come into contact with UV rays, reapply it every 80 minutes, and increase the frequency if you think you may have washed it off in water or sweat.
2. Avoid Prolonged and Intense Exposure
Not all sunlight is created equal when it comes to emitting UV rays. The sun is at its most intense between 10am and 2pm, so if you can't possibly avoid direct exposure during these hours, be sure to take extra precautions and protect yourself as much as possible. No matter when you decide to spend time in the sun, it's important to protect your skin from direct exposure using long (but loose) sleeves and pants, as well as hats. The wider the brim of your hat, the better your face is protected!
We also want to mention how important it is to protect your eyes from the sun. Be sure your sunglasses are equipped to block UV rays appropriately, and if you wear prescription lenses, talk to your eye doctor about matching your prescription to a pair of shades.
3. Examine Your Skin Regularly
The dermatologists at RI Skin Doc can't stress the importance of regular self-examinations enough for catching skin cancer in its early stages. Know your skin well -- that way, if anything changes, you can show your doctor and have it examined as soon as possible. When looking for melanoma, don't forget the ABCD method:
Asymmetry: Melanoma (malignant) lesions may be irregular in shape (asymmetrical). Benign (nonmalignant) moles are typically round (symmetrical).
Border: Melanoma lesions may have irregular borders (ragged or notched edges). Benign moles usually have smooth, even borders.
Color: Melanoma lesions may contain many shades of brown, blue, or black. Benign moles are usually a single shade of brown.
Diameter: Melanoma lesions are often more than 6 millimeters in diameter (about the size of an eraser on a pencil). Benign moles are usually less than 6 millimeters in diameter.
Read our Skin Cancer web page to learn more about the types of cancer that can occur as a result of UV exposure.
4. Add Protection to Your Beauty Routine
Luckily, UV protection doesn't have to come at a cost to your beauty regimen! There are plenty of cosmetics to choose from that contain UV-blocking sunscreen. UV-protective contact lenses are also available if you've chosen to ditch the glasses for your vacation, and as always, we urge our patients to avoid tanning beds in favor of harmless spray-on tanning products. 
All of these protective measures combined will work together to protect your skin from burns, damage, cancer and more, so you can enjoy your summer worry-free. However, if you do have concerns about a spot or mark, don't wait -- schedule an appointment with our specialists and have it examined as soon as you can.
With ongoing safety precautions in place, RI Skin Doc IS OPEN for in-person visits by appointment only. Rejuvaderm MediSpa will remain closed, but we hope to reopen by 7/6. If you have any questions about our COVID-19 response, visit our website.